I've been riding my small-framed Surly Long Haul Trucker (bought as a complete build) and writing about it since April 2008, and in that time I've received many letters from folks asking questions about this little workhorse. The emphasis here is on "little." There aren't many affordable road bikes—never mind those designed for touring—that are available in a frame as small as the 42 cm. It's not a surprise that the letters I receive often ask the same questions, so here I'll answer the ones that I get most often, beginning with…
The small Truckers come with 26″ wheels. Are they any good? I mean, don't real road bikes always have 700c wheels? The simple answer to the first part of the question is YES, 26″ wheels are just fine. I'm glad to have them on my LHT—in fact, they were a selling point. The hefty build of the wheels and the ability to mount all-weather tires is a big plus, in my book. Also, 26″ wheels fit small-framed bikes better than larger wheels would because the risk of toe overlap is reduced. What's toe overlap? It happens when the front tire and one of your feet collide, and it can happen when you're making a turn. I've only had it happen once on my LHT, and that's because I hadn't mounted the front fender as cleanly as I could. It stuck out too far aft, and my toe clip tapped it. No harm done, no fall from the bike. Normal caution and good form will prevent toe overlap.
Why did you chose the 42 cm instead of the 46 cm LHT? My main goal in choosing the size was to get a bike with the reach which would minimize shoulder and neck strain, and reduce the potential for numb, tingling hands. I've ridden a 46 cm LHT and can manage, but the top tube (or TT) on the 42 cm frame is shorter, making the reach just right for me. Critical measures of my set-up are annotated on the photo below. Right-click to open an enlarged image in a new window.
I can stand over both the 42 cm and the 46 cm frames, but don't care if I have lots of air between the TT and my bod. I wanted comfort over the long haul, and I got it. I swapped the stock handlebars for Nitto Noodles because I wanted wider bars, and the geometry of the Noodles suited my preferred riding positions (eg, hands on hoods or tops most of the time). Because the original stem had a different clamp size, I bought a new stem, but it's the same length and angle as the original Kalloy. I also swapped the original saddle for a Selle SMP Extra, which is a droopy-nosed saddle with a slot down the middle. Never had a more comfortable saddle.
Why did you buy the complete build rather than build up a custom LHT? Simple. The price was right and I didn't want to take the time to build up a bike from the frame, though it would be a learning experience and possibly even enjoyable. The components of the complete build were well thought-out, and there was little that I wanted to swap. When I tallied up how much it would cost to buy the components from retailers and then build up the bike, the cost of the complete build was far less. Others have gotten away with a better bargain by building up a frame, but they usually have lots of parts already on hand or get good deals by haunting eBay and classified adverts. Overall I'm impressed with the choice of components. I thought that I might not like 165mm crank arms, being used to 170mm cranks, but I notice no difference, and it makes sense to use shorter arms for a bike of this size. The brake levers are short-reach levers for smaller hands, and the stem is a short one for those of us with less reach. Bravo, Surly!
Isn't it hard to get used to bar-end shifters, which come with the complete build? No, it isn't difficult. At least it wasn't difficult for me, and to read the comments of other LHT (as well as Surly Cross Check) owners, no one seems to have much trouble. Read about getting used to barcons in "Making the Shift to Barcons."
Is it difficult to add accessories to such a small frame, like water bottles, racks, and fenders? Not at all. The LHT is a touring bike, remember? Even the smallest frame has braze-ons for three water bottle cages, and the LHT has braze-ons for front and rear racks as well as fenders. I even have a frame pump tucked behind the seat tube.
I've carried a full compliment of bags and packs as well as three water bottles. The only difference between this frame size and the larger LHTs is that you can't carry the largest water bottles on the underside of the down tube or on the seat tube. However, I can carry a 32-ounce bottle in the upper down tube cage, and 24-ounce bottles in the other two cages. Not too bad.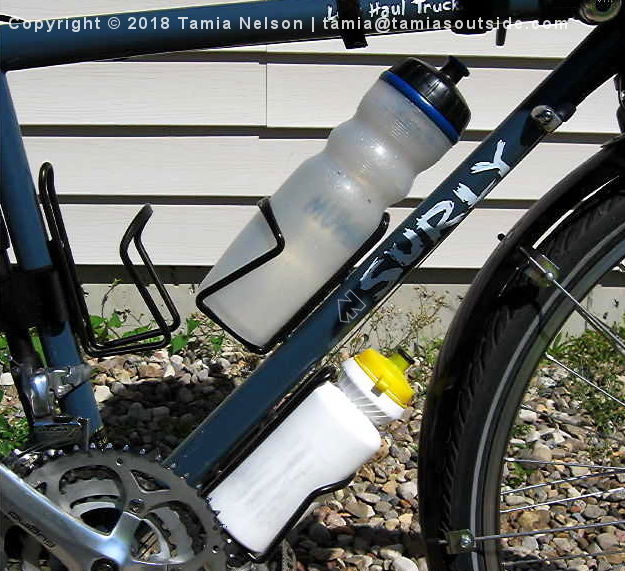 Weren't you nervous buying from a mail-order company? Why not just go with the local bike shop? I don't have a local bike shop worthy of the name, and because I lived in a rural area, I'm used to relying on mail-ordering from national retail outlets. I did a lot of research before deciding to order from JensonUSA, because they had a good reputation and a good price for the bike. I was pleased with the service I received, and no, I'm not paid to say that. We don't accept payment for endorsement of products or services.
There you have it, answers to the most commonly asked questions tossed my way as the owner of the smallest Long Haul Trucker that Surly makes. Would I buy this bike again instead of, say, the Trek 520? You bet. I've put thousands of miles on Petra (every bike has to have a name!), and look forward to many tens of thousands more. Would I change anything? Not a change, really, but an addition. I'd have Surly put on a kickstand plate. The small LHT is a perfect fit for me, and possibly for you, too.