Special Note For Short Riders If you're thinking of buying a Surly Long Haul Trucker with a 42cm frame, then you might want to check out "Small Talk About the 42cm Surly Long Haul Trucker," which answers the most commonly asked questions prospective short-frame owners ask. Just click through the hotlink to get there.
For years I wanted a a Surly Long Haul Trucker, and finally, in April, I bought one. The 42 cm LHT, painted "utility blue," was a terrific fit right out of the box, and I was pleased with Surly's choice of components for its steel frameset (in other words, the frame and fork). But like most enthusiastic cyclists, I couldn't resist customizing the bike—dubbed Petra—to suit my particular needs. When doing this, my goal was to balance economy with functionality. Here are my most notable alterations:
Handlebars Nitto Noodle, 44cm. Wider bars than the originals, my thumbs now have plenty of room between the 'bars and bar bag. I like the level ramp leading to the drop curve, and the slight sweep aft of the flat part of the bar. Swapping the handlebars required I move the brake levers and bar-end shifters.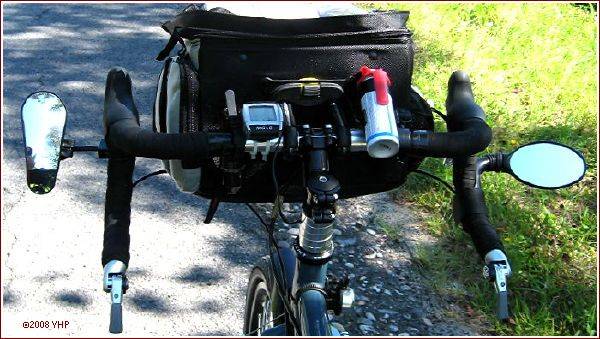 Stem Dimension 75 mm, 125 degree rise, glossy black. The Noodle handlebars have a different clamp size than the originals, so the stock Kalloy stem needed replacing. The Dimension stem was inexpensive but attractive. The rise and short length let me stretch into the drops without reaching too far forward (which can cause neck and shoulder cramps), and make long distance riding comfortable because of the more upright position than in a more racy road bike.
Saddle My LHT modifications now begin to diverge quite a lot from the typical Surly cyclist—I did not go with a Brooks saddle. Instead I stuck with a model which I've found works better for me than any other saddle I've ever owned—the Sella SMP Strike Extra. Curvy, firmly padded, and with a wide slit down its axis, the Extra allows me to ride all day without numbness and tingling. I own both men's and women's models, but it's the men's model I like best. The women's model is very wide, and while that's not so bad when sitting upright, it's very uncomfortable when in the drops or riding on the hoods.
Pedals Pedals were not included with the complete build, so I pulled a pair of Performance cage pedals from the parts box, and installed Performance plastic toe clips with nylon straps on them. These pedals worked well enough for shorter rides of under 1.5 hours, but they weren't very wide, causing foot fatigue. I swapped them for the wider and classier MKS Touring pedals, but kept the Performance toe clips and straps. The Touring pedals provide plenty of support, and the blunt teeth along the width of the pedals grip my road shoes and mountain bike shoes very well, yet when I want to pull out of the clips in a hurry the teeth do not prevent this. I had to back off the cones before installing the pedals because they were a tad tight, but that didn't take long. If you buy these pedals, you'll need a dust cap wrench to remove the cap in order to service the bearings and adjust cones.
Fenders Had black plastic Zefal MTB fenders on hand when I got the LHT, so mounted them until I could decide which fenders I'd settle with. Now I'm not sure if I'll bother swapping them. They offer good coverage over the Marathons, are easily adjusted, and don't rattle. The black color matches the color scheme of blue bike and black accessories. But because these fenders were slightly deformed when boxed for shipping, I was not entirely happy with the aesthetics—I preferred the curve to more closely follow the curve of the tires. To improve the lines, I put a spacer between the rear fender and the crosspiece between chain stays—a synthetic wine cork (Yellow Tail Cabernet, if you're interested) stepped in to do that job. The stainless steel fender stays stick out quite a bit from fender, and now that I've found an adjustment I like, I'll cut off the excess.
Tires The 26″ WTB Slickasaurus tires supplied with the LHT worked surprisingly well. They were fast, grippy on sharp turns, held tight in a driving rain on wet pavement, but weren't very good on gravel or sandy surfaces. I debated a long time before deciding to replace them with the basic Schwalbe Marathon tires. They're reasonably priced, have a good reputation, and looked like they had a tread which offered a compromise between speed and the ability to grip on unconsolidated surfaces. I've been using the Marathons for a several hundred miles now on a variety of roads, and they're great. Noticed no speed penalty over the Slickasaurus tires, they corner with confidence, and the tread grabs very well on soft surfaces. I really like the reflective sidewalls, too.
Chainstay Protector & Spoke Retainer I considered numerous purpose-built chainstay protectors but in the end stuck with what's worked on my other bikes. While not elegant, cable wrap easily slips over the stay, can be cut to length, and is sturdy enough to prevent scarring if the chain slaps the frame. It stays in place on rough roads, yet can be easily removed to allow the frame to be cleaned. I also put a short length of cable wrap over the spare spokes, just in case one decides to let loose when I'm riding. Cable wrap can be found in stores selling electronics and auto parts.
Rear Rack I chose a sturdy aluminum touring rack rated to 25 kgs, bought in a Nashbar sale. No idea what company made the rack, but I like the design and it's held up under very heavy loads. I carry shopping panniers on the rack, as well as small and large touring panniers. Boxed wine can be lashed on top, pump pegs allow mounting a mini-pump along one side (though I don't use this feature), and a slightly raised lips forward and aft prevent loads from slipping off the rack in a hard stop. The sweeping curved stay aft prevents heavy panniers from wobbling into the wheel.
Other Accessories The LHT complete build does not include a kickstand. I decided on the Pletscher two-legged kickstand because it makes a great workstand on the road. When parked, the bike normally will rest on only one wheel, with the other lifted off the ground. It takes some practice to avoid toppling a heavily loaded bike, and if the front wheel is off the ground, it wants to swing all the way to one side or other until the handlebars smack on the top tube. I protect the top tube with a velcro tie and anticipate the tendency to swing by positioning the front end manually. I left the kickstand legs at the original length rather than cutting them down. I can therefore press them deep into the soft sediment I normally find alongside the roads hereabouts, further steadying the parked bike.
A rearview mirror makes sense for safety, and after trying a Blackburn, I settled on a German Ultra-Light Bike Mirror. I'm not entirely happy with it—it's not bright, approaching vehicles are small in the parabolic lens, and as motor vehicle mirrors often warn, "Images in Mirror are Closer Than They Appear." At least it's steady and can be mounted just about anywhere with its adjustable robust plastic strap. (See the photo earlier in the article for both mirrors, one on each side of the handlebars.) Another safety feature is my silver Incredibell mounted on top tube at furthest point forward because the strap wouldn't wrap around the spacers of the steerer tube. For lights, I chose a Sigma Quadro front light (for now) and a Cateye reflector-blinkie-tail light (bright and effective).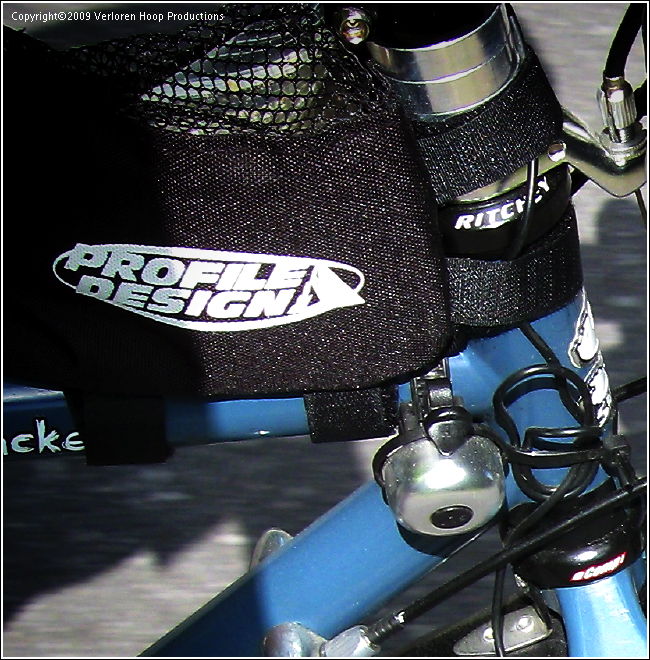 I mount a Zefal HP-X frame pump between chainstays and port-side seat stay. With a good long stroke, the HP-X pumps the Marathons up to 80 psi without making me collapse from fatigue. I wrap a retention strap around the pump, just in case.
A Performance Transit-Pro bar bag has the best bracket I've seen—the one on my utility bike has been toting the load for five years without failure—and the bag is spacious, with sensible pockets and dividers. It was reasonably priced, too. I use various panniers, trunks, and bags, and I just love my Profile Designs snack pack, mounted on the top tube just abaft the stem.
So I know how many feet I've climbed, I splurged on a VDO MC1.0 wired cyclometer. My old Cateye Astrale II is easier to read, but it's nifty to have a display that shows me the grade I'm climbing, the air temperature, and the altitude, as well as speed, time, and a bunch of other stats.
Did I leave anything out? Probably, but these are the main points. I suspect that Petra's outfit will evolve in time. But for the moment, I'm satisfied with the arrangement. I couldn't be happier with the Surly LHT. There are many like it, but this one, THIS one, she's mine.