A bicycle is the sum of all its parts — headset, crank, cluster, and many others. But what are these parts, where do you find them? Tamia dissects a bike to identify the most commonly referenced anatomical features. Don't worry, though, the demo isn't gross.
______________________________

by Tamia Nelson | May 24, 2018
Originally published in different form on June 19, 2017
Do you know what's meant by a bike's headset? Or the rear dropout? Or the chainstay? You might not if you're new to cycling. Or if you've been riding bikes for awhile but never gave thought to more than the pedals, saddle, and tire pressures. Yet if your bike develops a strange knock, or the steering seems wonky for no reason, or the brakes aren't functioning properly, than you'll have an easier time diagnosing the problem if you know how to identify the bike's constituent parts. This is doubly true if you are thinking of learning to service and repair your bike.
Even simple bicycles are built of many parts. The frame is obvious, as are wheels, tires, the saddle, pedals, and handlebars. But what about the other parts? Some you can see, at least partially. Others are hidden. All are important. In the photo below, shot by TNO's Contributing Photographer Anthony Jancek, you can see how one kind of pedal breaks down:
This is part of a larger display of a dismembered bike in a shop window. Each part is suspended from the ceiling by a length of monofilament, which probably accounts for why the pedal's ball bearings aren't there. (It wouldn't be easy to suspend spheres from even the finest thread, after all.)
But what about the bigger picture? Well, here it is: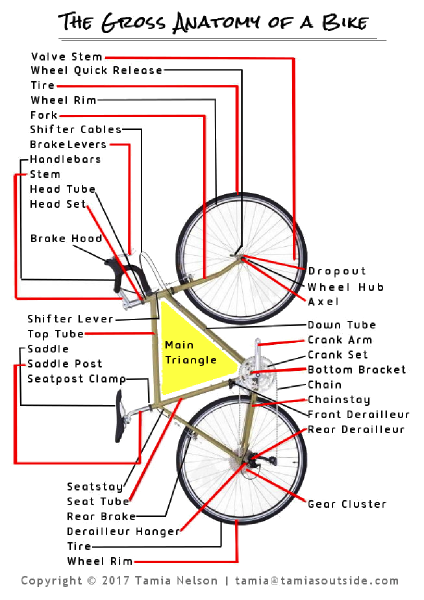 This is a touring bicycle, so will differ in some ways from a racing bike or a mountain bike, but all bikes share a similar anatomy. Listed in the annotated photo above are the main important parts. Caveats? Shifter levers will be in different places on bikes with brifters or grip-shifters, and the handlebars will differ from a straight or raised set. One glaring absence in the diagram is the right side pedal. New bikes, particularly more expensive bikes, aren't equipped with pedals. The assumption is that each cyclist will have a favorite pair. (Why this doesn't extend to saddles and handlebars is beyond me.) But you know what pedals are located, right? That's a good start!
Questions? Comments? Then click here to send Tamia an e‑mail.