Spring may have come round on the calendar, but a thin carpet of wet snow blankets the landscape outside my office window, and a raw northerly breeze chills bare fingers in a hurry. That's excuse enough for a hot treat to warm body and soul, don't you think?
______________________________

by Tamia Nelson | April 7, 2018
Not even the returning sun can always be relied on to bring relief from winter's chill. Time and time again, the warm promise of a sunny spring morning is betrayed later in the same day by a deluge of cold rain or a late-season snowstorm. Whether you've just returned home from a shopping run with your bicycle, an early season training ride, an ice-out paddle, or a chilly woods hike, a toasty treat can revive the spirit while warming your body. Best of all, these can be enjoyed at home or in camp, something to keep in mind for cold nights on three-season outings. So what's on the menu? Let's begin with…
Coffee
I used to gulp down as many as 20 cups a day. No more. Nowadays I'd rather savor a single mug of really good coffee than throw back countless pretenders. But don't expect me to tell you what makes a good cup. Every java junky has his or her own favorite bean, roast, and brewing method. What's mine? For everyday drinking, it's one-hundred-percent Columbian roast, brewed for five minutes in a French press, and then poured into a heavy, pre-warmed mug. I drink my coffee black. Sometimes, though, it's fun to experiment. At other times it's a matter of necessity — or a happy accident. And occasionally this leads to a revelation. A case in point: In a state of exhaustion on a long road trip I mistakenly squirted French vanilla half-and-half into my steaming hot mug of coffee. To my amazement, it hit the spot. I've since learned that other folks pack flavored powdered coffee creamer along on every trip. It's definitely worth a try.
Of course, some people don't like coffee in any guise, and not everyone wants to load up on java before hitting the sack. That's when an old standby comes into its own —
Hot Cocoa
It's a traditional camp or post-outing drink, and nowadays it's easy to make. Just add boiling water to one of the packets of instant cocoa. This is only the beginning, however. There are many variations. Here are a just few:
Minty Hot Cocoa Put the contents of a packet of instant cocoa into a mug, or mix up your own personal blend with cocoa powder and whatever sweetener you like. Then add a heaping tablespoon of mint chocolate chips. Now pour boiling water into the mug and stir. And where can you find mint chocolate chips? In the baking aisle at the HyperMart, right next to regular chocolate chips, butterscotch chips, and toffee chips. No luck? No problem! Crumble a couple of wafers of mint chocolate candy (André's is one widely distributed brand) into your mug, instead. Or add ½ teaspoon of peppermint extract. Or just use a peppermint candy cane as a stirrer. You'll get two treats in one.
Nutty Hot Cocoa Add 1/8 teaspoon of almond extract to each mug of cocoa, sprinkling toasted almond slivers on top if you like your cocoa crunchy.
Extra Creamy Hot Cocoa Mix a splash of milk or cream, or a couple of teaspoons of coffee creamer — either plain or flavored — into the instant cocoa. Add boiling water, stir, and enjoy.
Spicy Hot Cocoa Place a cinnamon stick in each mug of hot cocoa, then sprinkle a pinch each of ground nutmeg and ground allspice on top. Or substitute powdered ginger for the nutmeg and allspice.
Chocolate? Or coffee? Or can't you make up your mind? Then you'd better have both …
Coffee AND Chocolate
True joe-heads will only drink instant coffee under duress. I'm one of them. Still, there are always times when it pays to break the rules. After returning from a late-season outing on the River I wanted a cup of coffee right now, so I burst the seal on a jar of instant that had been sitting unopened in my cupboard for a couple years. To begin with, I was hopeful. Boiling water released the delightful aroma of fresh-brewed coffee. But my first sip destroyed the illusion. Then I caught sight of some packets of cocoa mix next to the jar of instant coffee. Into the cup went the contents of one packet. I took another sip, and I immediately knew I had a winner. I christened it…
Quick and Easy Choco-Java. But I wanted more. I wanted …
Even Better Choco-Java So when I made my second cup I dropped in a couple of squares broken off from a large dark-chocolate bar. Success! You may want to go even further down this road, however, brewing fresh coffee and pouring it into a mug containing a chunk of chocolate or some chocolate chips. Stir well. Or maybe you'll want to go the whole hog, and take the time to make …
The Best Choco-Java This silky, decadent drink ought to satisfy the fussiest foodie. Make hot cocoa from scratch, using Dutch-processed cocoa, your preferred sweetener, and fresh milk. Meanwhile, brew a strong pot of your favorite coffee. Combine equal parts in a mug. Bliss!
But suppose you're one of those folks who don't care for either coffee or chocolate? Don't despair. There's always …
Apple Cider
Heated, mulled apple cider is a favorite cold-weather drink. Here are three delicious variations:
Spicy Cider Simmer cider with a cinnamon stick and a few whole cloves. Strain out the cloves, then serve in a mug with a sprinkle of ground nutmeg on top.
Citrus Cider Heat cider in a pot, then pour into mugs. Squirt some lemon juice into each mug, stir, and enjoy. Another way to get the citrus tang is to pour hot cider into a mug containing a tablespoon of lemonade powder.
Fresh Citrus Cider Cut a lemon, lime, grapefruit, or orange into thick slices, working from one end to the other, across the grain. Reserve one slice for each mug — use half a slice if it's grapefruit — and put the rest into the pot with the cider. Heat the cider and fruit, then pour the hot cider into mugs. For a true mulled cider, add a cinnamon stick and two or three whole cloves to the pot before heating. Strain out the spices and fruit when you pour.
All right. You're of legal age. It's the end of a long day, and you're home for the night, whether that's inside four walls or in camp. You're a little chilly, but you're not cold. It's time to tip a bottle into your mug of coffee or cocoa and …
Raise Your Spirits
Rum, either light or dark according to taste, is a traditional post-outing tipple. Whisky — Scotch, in other words — is another favorite. For sipping, I relish the smoky, peaty flavor of Laphroaig or a similar Islay single-malt, but a good blended whisky like Famous Grouse is a better mixer. (You might prefer a different whiskey altogether, of course: bourbon or Irish, if you must.) In any case, both rum and whisky complement hot chocolate and coffee, and while whipped cream is a rare treat, powdered creamer will do in a pinch. Experiment. Liqueurs or flavored spirits can enhance a hot drink, too. Try any of these: Bailey's Irish Cream, Cointreau, Grand Marnier, Kahlùa, Tia Maria, Frangelico, or peppermint schnapps.
Back to rum for a minute. Grog, or watered rum, was once the traditional naval drink, as well as a staple of 19th-century arctic exploration. Make this relic from the age of wooden ships and iron men with Pusser's dark rum. Mix two parts of CLEAN, hot water with one part rum, then stir in granulated cane sugar and fresh lime juice to taste. It's not everyone's idea of a nightcap, I admit, but if you're among the few. …
Read more: Food of the Gods | Moka! | Java Jive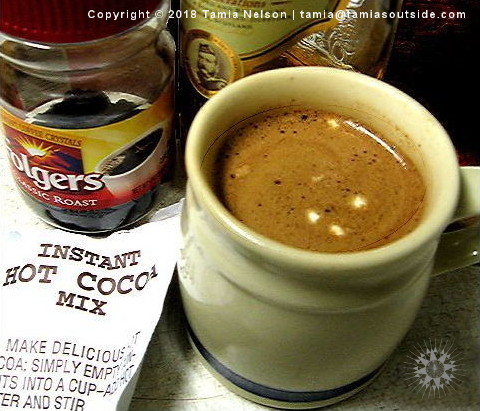 ---
Questions? Comments? Then click here to send Tamia an e‑mail.