The next time you're in a hurry for a home-cooked dinner but don't have the time to do everything yourself, pick up a rotisserie chicken on your way home. By adding a couple side dishes, you're in for a well-rounded and almost effortless meal that's sure to fill in all the empty corners. Comfort food doesn't get any easier than this.
______________________________
by Tamia Nelson | April 2, 2018
Originally published in different form on October 5, 2009
Roasted whole chicken is one of the easiest meals to cook, and one of the most satisfying to eat. A small chicken of four to five pounds is just the right size for four hungry people, or for two people with leftovers for more meals. Plus there's the carcass, which when simmered with aromatic vegetables, produces enough broth for soup. Chicken is healthy and is versatile. Its mild flavor is pleasing on its own, but can get a boost or kick depending on how it's seasoned and prepared.
So roasted chicken is a great choice when you're hungry and want comfort food. Yet there's a snag. It takes time to roast chicken. Enough time that it's not always a feasible option when you return home after a long day, whether it's a day at work, of a day on the bike, in the boat, or on a hike. But there is a solution—store-roasted chicken. These are usually found in the grocery store's deli section. If your store's rotisserie chicken is as good as the ones at my local grocery store, then you're in for a satisfying dinner. And unless you're serving four or more famished people, there's the bonus of leftovers for sandwiches, stir-fries, or rice pilaf.
Roast chicken is just the centerpiece, of course. For a well balanced meal you'll want to have side dishes. Here are some suggestions for complete meals:
Chicken with Sides of Potato and Green Salads It doesn't get any easier than this. Pick up potato salad at the deli counter where you buy your chicken, and choose a green salad mix in the produce department. Be sure to grab a bottle of your favorite salad dressing if you have none in your pantry, or a bottle of vinegar and one of olive oil. Once you get home, dinner's on the table as fast as you can dish up the ready-made meal.
Chicken with Sides of Chips and Crudites Dipped in Hummus On your way to the deli, choose a selection of prepared or small raw veggies—baby carrots, julienned bell peppers and celery sticks, small cucumbers. Grab a container of your favorite prepared hummus in the deli, select your roasted chicken, and stop by way of the snack aisle for your favorite chips. Dinner's ready as quickly as you can carve the chicken and lay out the side dishes.
Chicken with Sides of Corn on the Cob and Green Salad Look for corn on the cob in the freezer section at the HyperMart, pick up a green salad mix, and you're all set for dinner. At home, microwave the corn to reheat it, toss and dress the salad, and carve the chicken. Total time? Ten to 20 minutes, depending on how quickly you can microwave, toss and carve.
Chicken with Sides of Mashed Potatoes and Spinach When you buy the roast chicken, pick up a packet of spinach in the produce department, and a container of ready-made mashed potatoes. Once you get home, toss the spinach with an abundant quantity of water in a large bowl, then swish the spinach to dislodge any grit. Lift the spinach from the water, allow it to drain a bit, then put the dripping spinach into a large pot. The clinging water is all that's needed to cook it. Cover the pot and turn the heat up to high. Keep an eye on the spinach while microwaving the spuds according to package directions. The spinach is hot and wilted inside a minute or two of coming to a boil. Carve the chicken, plate it with the spinach and potatoes. Total time? About 15-20 minutes.
Chicken with Sides of Couscous and Mixed Veg Pick up frozen mixed vegetables and a box of instant couscous when you're at the market. Cook the couscous according to the provided instructions. This usually requires bringing water to boil and then turning off the heat after pouring the couscous into the pot. Cover the pot and allow the couscous to reconstitute while you heat the vegetables in a second pot. When the veg are hot, and the couscous fluffed, serve with the chicken. Total time? No more than 15 minutes.
Chicken with Sides of Green Beans and Roasted Potatoes & Carrots This requires a little more time to go from start to serving, but you don't have to attend the cooking. While you wait for the meal to be ready, put away your gear, go take a shower, or set the table and unwind with a glass of wine.
Pick up a pound of fresh green beans or sugar snap peas from the produce department. Don't forget potatoes and carrots. I like to use small red potatoes and baby carrots, which roast quickly. As soon as you get home, turn the oven to 450 degrees Fahrenheit. Wash, dry, then halve or quarter the potatoes—figure on three small or two medium potatoes per person—and put them in a roasting pan or well-seasoned large cast iron skillet. Now mix in a cup or so of carrots. Add four to six large whole garlic cloves if you like. Drizzle olive oil over the vegetables, season with salt and pepper, dried thyme and rosemary. Mix everything to coat the veg with oil and seasonings, pop them uncovered into the oven. Turn to the green beans. Snap off the stem ends and wash the beans, then put them in a pot with about an inch or two of water. Cover the pan and bring the water to a boil. Now all you have to do is enjoy some relaxation time.
After 15 minutes, remove the green beans from the burner, drain them, toss on a thin slice of butter or substitute, season with salt and pepper, then set them aside to keep hot. Remove the pan of vegetables from the oven, place the chicken right on the top of them, then add any chicken juices which accumulated in the plastic tray. Return the skillet to the oven and roast for an additional 15 minutes. By reheating the chicken this way, you re-crisp the skin and assure the meat will be piping hot, while enhancing the flavor of the vegetables.
Remove the skillet from the oven when the potatoes are fork-tender. If you want to be elegant, lift the chicken to a serving platter and surround it with the roasted vegetables. If you don't want to bother with that, place the chicken on a warm plate, carve it into pieces, and serve with the roasted vegetables and green beans. Total cooking time is from 30 to 45 minutes. Total hands-on time is about 15 minutes.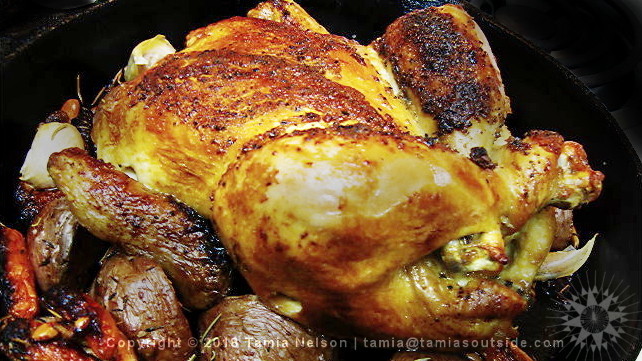 The next time you're in a hurry for a home-cooked dinner but don't have the time to prep it yourself, pick up a rotisserie chicken on your way home. By adding a couple side dishes, you're in for a well-rounded and almost effortless meal that's sure to fill all the empty corners. Comfort food doesn't get any easier than this. That's my kind of fast food.
Questions? Comments? Then click here to send Tamia an e‑mail.