The Performance Transformer jacket is a lightweight wind shell. It's got a lot going for it: It's reasonably priced and the hi-viz color stands out to alert drivers you're there. Moreover, the polyester fabric not only blunts the edge of cutting winds, it sheds light drizzle, too. Best of all, the jacket can morph into a vest by unzipping the sleeves. But there were two complications Tamia had to overcome before it went from good to best.
Some eight or nine years ago I bought the Performance Transformer jacket on sale from online retailer Performance Bike. (Amazingly, an updated version of the Transformer — the Elite Transformer — is still carried by Performance, though with a critical alteration as well as a much higher price.) Though not available in a women's version, the Transformer appealed for several reasons. It's a lightweight wind shell made of polyester, which blunts the edge of cutting winds and blunts a light drizzle. It's predominantly hi-viz yellow, though unfortunately with black sleeves, shoulders, and chest pocket. The black swatches reduce the Transformer's overall brightness, though as the photo panel below indicates, the hi-viz is very bright, bright enough to throw off my camera's sensor.
The jacket folds up into a tidy packet for carrying in my handlebar bag or small pannier. But best of all, the Transformer lives up to its name — the jacket can morph into a vest by unzipping the sleeves. The mesh upper back help reduces condensation even when the sleeves and cape are in place, as a scoop vent at the cape's lower seam allow ventilation. And if a bright jersey is worn beneath the vest, its color will show through the vest's mesh. Did I say the Transformer is light?
So far, so good. I planned to wear the Transformer when the weather was too warm for my heavy-duty foul weather Canari Barrier Commuter jacket, but still too chilly for just a long-sleeved jersey. And I looked forward to being able to zip off the sleeves when I warmed up. But, there were…
TWO COMPLICATIONS TO OVERCOME
The first annoyance? Zippers that join the cape and sleeves to the vest jam very easily. Secondly, the Transformer is cut for a man's body, and a slim man's body, at that.
I've come to terms with the zippers. (I no longer try to unzip on the move.) The tapered fit defied easy accommodation, however. Most women's bodies are hourglasses, not inverted pyramids, and mine is no exception. When I pulled my Transformer down over my hips I felt as if I was riding in a badly fitted straitjacket. Which, in a way, I was.
After wearing the jacket for a few months, I concluded that it didn't live up to its promise. But I'm loathe to give up on anything. Especially when I can't find a suitable substitute at price I'm willing to pay. Convertible jackets are rare beasts. So instead of leaving my Transformer to gather dust in the closet, I decided to tackle the fit problem head on. And that meant…
TRANSFORMING THE TRANSFORMER TO FIT A WOMAN'S BODY
This meant sewing. Now I'm not one of nature's eager seamstresses, but my mother was a genius with a sewing machine, making many of her own and her kids' clothes from scratch, as well as remodeling ready-made garments to fit her (and us) better. I figured I'd see if I could live up to her example. After all, what did I have to lose? As it was, I had a jacket which was so uncomfortable that I rarely wore it. If my alterations failed, I'd be no worse off. But if they succeeded, I'd be ahead of the game. So I grabbed a sheet of paper and sketched out a plan:
My Transformer had black triangular gussets separating the hi-viz front and back panels. I began by slitting these gussets (step 1 in the sketch) from the hem to a point just below the arm hole and opening them up by some four inches (2) on each side. Next, I split the seams of a hi-viz nylon stuff sack I found on the verge of the highway. This gave me a large rectangle with a preformed drawcord hem, from which it was child's play to cut two additional triangles of fabric (3). (I used a laundry maker to trace the outlines before cutting.) Then I heat-sealed all the cut edges — and almost set fire to the jacket. Polyester is tricky stuff!
Turning the jacket over so that the inside was facing up on my work table, I matched the cut edges of one green nylon insert with the cut edges of the corresponding black gusset, being careful to align the tunnel hems (4). Then I pinned the insert to the jacket to hold everything together and stitched it in place (5), doubling the lines of stitching before going on to tackle the second gusset. In just a few short minutes it was time to try my newly tailored jacket on for size. And the result? Perfect. No more straitjacket! It was just loose enough to accommodate a long-sleeved jersey under a light fleece top. Here's what one side of finished garment looks like: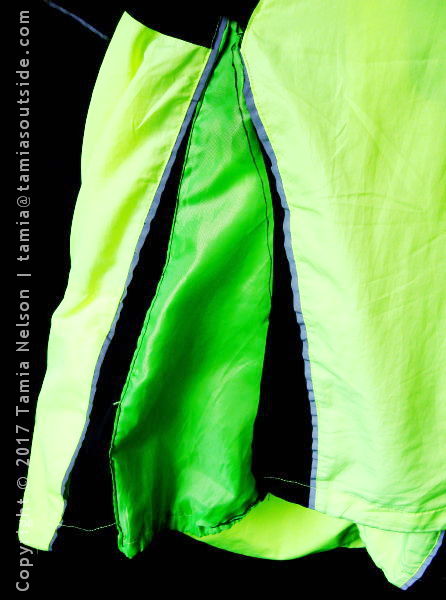 You can see the black lines left by my laundry marker. I should have placed them on the inside where they wouldn't be seen, but I can live with it. The green color also clashes with the hi-viz yellow, but I can live with that, too. Someone with more skill and patience than I would have done a far neater job, I'm sure, but I'm pleased with my transformed Transformer. It's now the versatile garment I wanted when I bought it. and has been keeping me warm and dry for many years.