Have you given up on cycling because of a bad back, or because you're nervous about not being able to plant your feet flat on the ground? Then consider doing what my friend Les has done—get yourself a crank-forward bike.
A friend from college spends her days in a commercial bakery hefting heavy crates, manhandling 50-pound sacks of flour, and carrying large trays of fresh bread. Twenty years of this work has given Les a dodgy back. A back which became so bothersome she had to give up on riding a roadie and move to a mountain bike with high bars. After a time she couldn't even tolerate that. Les has been living car-free for most of her adult life, and she didn't want to give in just because her back was a pain. Her solution was to buy a Day 6 Dream bicycle. Day 6 calls their comfort bikes semi-recumbents, and you can see why: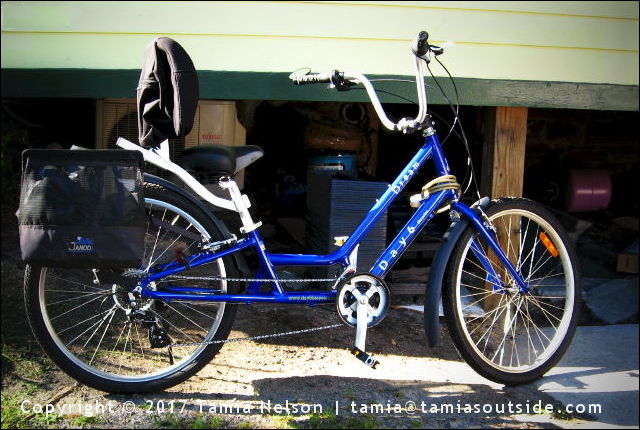 Les hauls groceries and supplies in panniers, and intends to do so even when the roads aren't dry, so her Day 6 is outfitted with fenders, a rear rack, and Jandd panniers:
The thickly padded wide saddle is augmented with an adjustable padded backrest: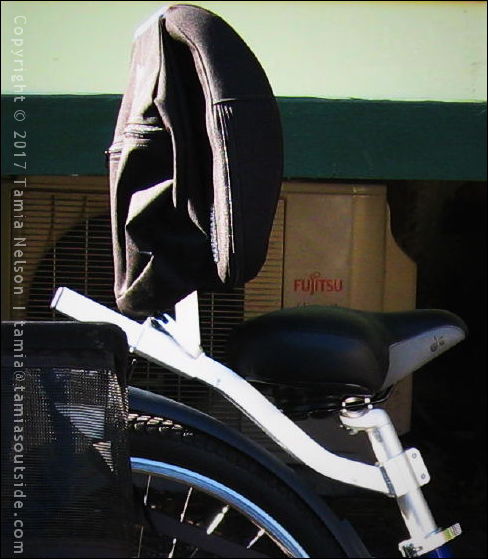 Behind the backrest, a large zippered pocket can hold necessities where they're accessible but out of the way.:
Les' alloy-framed Dream weighs in at about 34 pounds, shifts through 21 speeds, has SRAM twist-grip shifters, linear breaks, 26″ x 1.95″ double-walled rims and Kenda Komfort tires, Shimano derailleurs, platform pedals, a kickstand, and the usual assortment of reflectors. Look at the length of that chain:
Les has short arms, so her bike shop reversed the stem to improve the fit:
I was glad to see a rearview mirror, but not so pleased to notice that the folks shown riding Day 6 bikes on the manufacturer's website aren't wearing helmets. Still, I imagine that there are plenty of folks like Les, who find a crank-forward (or semi-recumbent) bicycle of this kind admirably suits their requirements. No need to swing a leg over a top tube. No need to dismount to place feet flat on the ground, come to that. And the backrest in combination with high handlebars makes it possible for folks with troublesome backs to get out on two wheels. That's all to the good in my book.
This article is an update of one originally published on 15 August 2009.
Questions? Comments? Just click here!