When Tamia was packing groceries into her bike's panniers outside the shopping store not long ago, a passerby stopped to express his skepticism that she could fit it all into a pair of "saddlebags." As he watched and asked questions, skepticism became astonishment, then optimism. After all, he had a bike. So could he do the grocery shopping, too? Of course he could! And so can you.
Watching other people at a manual task is a guarantee that kibitzers will stop by to enjoy the show, so I wasn't surprised to have an audience when packing up the panniers on a routine shopping trip to the grocery store. "You'll never get all that stuff in those little saddlebags!" a passerby proclaimed. I looked up from the dark interior of the starboard pannier to see a wide grin creasing the man's deeply wrinkled face.
I grinned back, expecting him to move along as most do. But he was interested and asked pertinent questions as I loaded up. By the time I'd cinched bright yellow rain covers over the panniers, Sam, my new acquaintance, had concluded that he would clean up his old three-spee and try shopping with his bike, too. Holding up his two plastic shopping bags loaded with bananas and apples, boxes of cookies and frozen meals-for-one, he asked…
Do you need a fancy, expensive bike to do grocery shopping with it? No. The right bike for the job is most likely the one you have. A fancy racing bike isn't the best choice for utility cycling. The bike will need to accommodate a rear rack or be capable of hitching a bicycle trailer, though small loads of groceries—those that fit into one or two basic plastic shopping bags—can be carried in a pack on your back. Just be sure no straps dangle and get caught in a wheel or chain.
How can you get saddlebags and how do you put 'em on the bike? Handy folks can repurpose buckets or kitty-litter pails, but most of us buy panniers. These can be found in some bike shops and ordered from Amazon or online bike retailers. Even small panniers hold enough for several days of food. My small, inexpensive Delta Compact panniers carry quite a lot. The photo below shows just the tip of the, er, produce pile gleaned from the farmer's market:
Even better are purpose-built panniers for shopping. For going on ten years we've been hauling the load in Nashbar Townie shopping panniers:
These are specially designed for efficient grocery haulage. A bonus is that they fold flat against the bike when they're not needed…
…and they each come with a rain cover, which serves just as well as a dust cover and as a sun barrier to keep pannier contents cooler.
To mount panniers you'll need a rack that bolts to the rear triangle of the bike or is clamped to the seat post.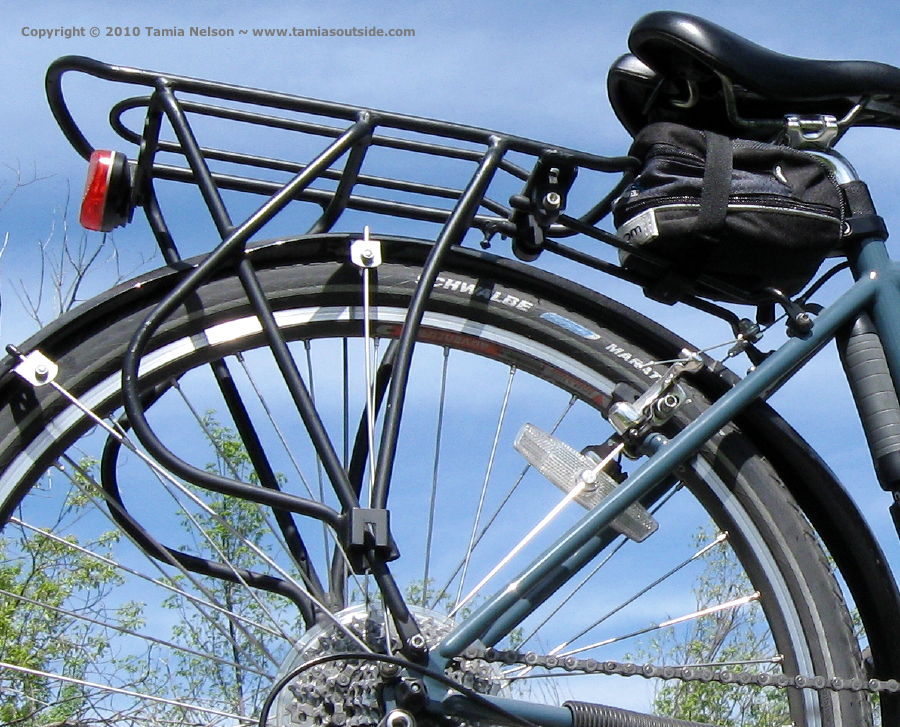 You can get by with inexpensive models, but be sure they're capable of managing loads up to 40 or 50 pounds. This doesn't mean you have to carry a heavy a load, by the way. But a rack rated for hauling such loads will be solidly built and unlikely to break when you hit a pothole or bump.
Do you have to use saddlebags? No. You can use a trailer, instead. For years our shopping was towed in a Nashbar Kid Karriage—a trailer for towing small children behind your bike:
Now we use a Croozer cargo carrier trailer, which is boxy and has a lower profile, and is made for towing loads, not people: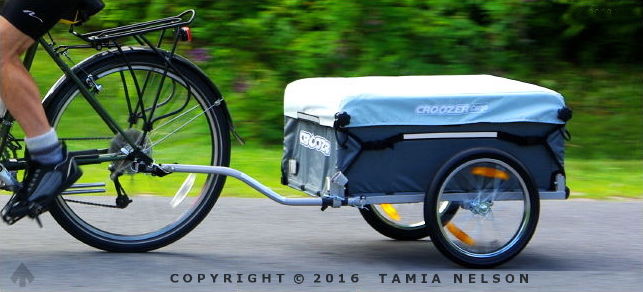 Your bike may have to be fitted with a hitch, though some kid-carriers clamp directly to the bike's frame. In addition to bike shops and online retailers, look for bike trailers in your local Big Box store—Target and Walmart both are said to carry reasonably priced models—and check local classified adverts as well as garage sales.
Can you haul groceries on a bike even if you're an out of shape old guy (or gal)? If you have no medical reason not to exert yourself, sure you can. Just keep the load modest, take it easy, stop and rest when you need to, and use the bike's gears sensibly. It won't be long before you'll be in better shape, with firmer muscles and more energy.
How do you keep frozen and refrigerated food from going bad? We use generic soft coolers that fit right inside the panniers, or which can be loaded directly into a trailer. A freezer block or two helps, as well. We've successfully kept frozen and cold foods intact on the one-hour pull home on 90-degree days with soft coolers and freezer blocks.
I guess I have to lock the bike, right? You should. Find a metal pillar or other solid object to lock to—we use cable locks but many choose to augment these with U-locks—and don't park where your bike will be in the way of the cart jockey or passersby. If you are hauling a trailer, lock the trailer, too. We lock ours to the bikes, then lock the bikes to a pillar which supports an overhang outside the main entrance.
Is there any other advice you have before I start? Map out your route in advance to be sure you can safely ride a bike to the grocery store while complying with local laws. For instance, if the road is a four-lane highway with high-speed traffic, and if the law prohibits cyclists on sidewalks, than it may be wise to look for a different store to shop at. Consider a less busy road even if it means a longer route. You want to stay alive, right?
Once you've decided on a route, make your maiden voyage on a lightly traveled day with comfortable weather. Your first trip is not the time to ride in thunderstorms or on the Friday before a three-day weekend. Lighten up your purchases so your load isn't too heavy, and take your time loading up and riding back home. Then reward yourself with a hot shower and cold beverage!
Questions? Comments? Just click here!