The gulf between boots and pants looms large in winter. But gaiters can bridge the gap with ease.
My NEOS Trekkers overboots are my first choice for winter footwear, at least in the backcountry, but they aren't at their best in rugged terrain. When I want soles with an aggressive tread and the support that only stiff uppers can give, I have to look elsewhere. And anyway, if I won't be floundering in deep drifts of wet snow or wading icy streams, I don't need the waterproof, knee-high tops of the Trekkers.
No matter. I have gaiters. They're not exactly a new idea—Sam Weller, the cheerful cockney who rescued Charles Dickens' Pickwick Papers from obscurity, was described as "wearing light breeches and gaiters"—and they've certainly stood the test of time. Little more than a fabric tube that reaches from ankle to knee (though some gaiters do no more than cover the ankle), gaiters protect your shins from wet, wind, and cold, while they leave your boot soles free to do what they do best—come to grips with the terrain. Mine were made by Outdoor Research, and they're called Packcloth Gaiters, a prosaic but accurate label.
You probably won't agonize over getting the right fit: My pair came in only one size. They also have a full-length Velcro closure to make it easy to put them on and take them off, no matter how muddy your feet.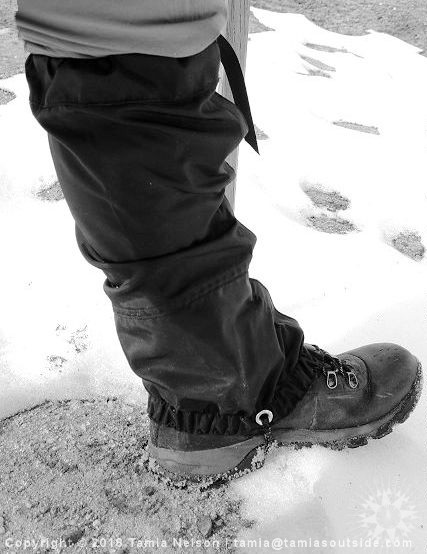 A doubled length of nylon cord slips under the instep of your boots to stop the gaiters from riding up, and a lace hook on the lower hem keeps the front of each tube from scooping up samples of whatever you happen to be walking through. Want the inside story? Then check this out: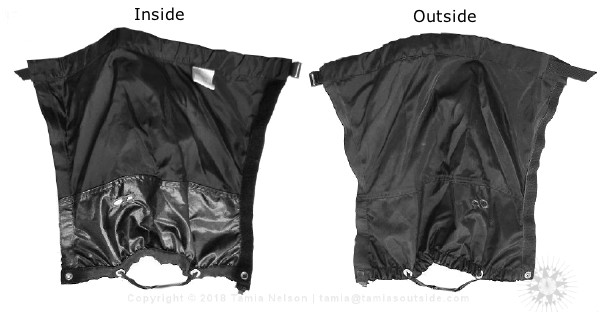 I also threw in an outside shot as a bonus. You may have noticed that the lower portion of each gaiter—that's the bit that covers your ankle and boot top; it's uppermost in the photo—is made of coated waterproof fabric. The balance of the gaiter is breathable packcloth. A snap secures the elasticized lower hem; an adjustable buckle keeps the gaiter from falling down.
That's it. But as simple as gaiters are, they're still mighty handy. In winter, they keep snow out of your boots, and they blunt the icy wind's cutting edge. (If you wear knickers, rather than long pants, this is doubly welcome.) In summer, they protect your legs from brambles and thorns. They also discourage ticks. But they're no substitute for waders, wellies, or NEOS overboots if you're planning on fording streams. Luckily, my Trekkers pack small and weigh next to nothing, so I can carry them in my rucksack for the times when I'll need them.
How much will all this utility cost you? Well, I paid around USD20 for my Packcloth Gaiters. You'll pay more if you want gaiters made from some waterproof-but-breathable miracle fabric, of course, but I'm not convinced that it's worth it. And while getting a good fit isn't often a problem, folks with very muscular calves—or very long (or very short) legs—may need to shop around a bit. It also pays to check that your gaiters can accommodate your boots. Bulky winter pacs may be too much for most gaiters to swallow.

Gaiters are simple and good—the twin touchstones of utilitarian gear. So if you're thinking of wandering around in the winter woods, give gaiters a try. I doubt you'll be disappointed.