There's nothing special about waterfalls, is there? Almost any stream large enough to appear on a quad has one or two tucked away somewhere. But these are everyday waterfalls. They're well worth a visit, to be sure, but they're not likely to take your breath away. The Cataratas do Iguaçu (Iguaçu Falls), on the other hand, are WATERFALLS. Located in the Iguaçu River, on the border between the Brazilian state of Paraná and the Argentine province of Misiones, this U-shaped complex of 300 islands and 200-plus-foot drops dwarfs North America's Niagara Falls. ("Poor Niagara!" Eleanor Roosevelt is said to have exclaimed on first seeing Iguaçu.)
Despite this, I might have gone to my grave ignorant of the falls' existence, but for the efforts the indefatigable Marcos Netto, our Southern Hemisphere Correspondent, who recently visited the Parque Nacional das Cataratas do Iguaçu—a World Heritage Site—and sent along some truly spectacular photos to jog me out of my mid-summer torpor.
He certainly succeeded. His first photo was taken well back from the falls proper. It's what the film trade calls an "establishing shot." But even at this great distance, Marcos reports that the earth under his feet trembled from the shock of falling water. That's no surprise. Iguaçu comes from the Guarani words for "big water." So both the river and the falls are well-named. See for yourself: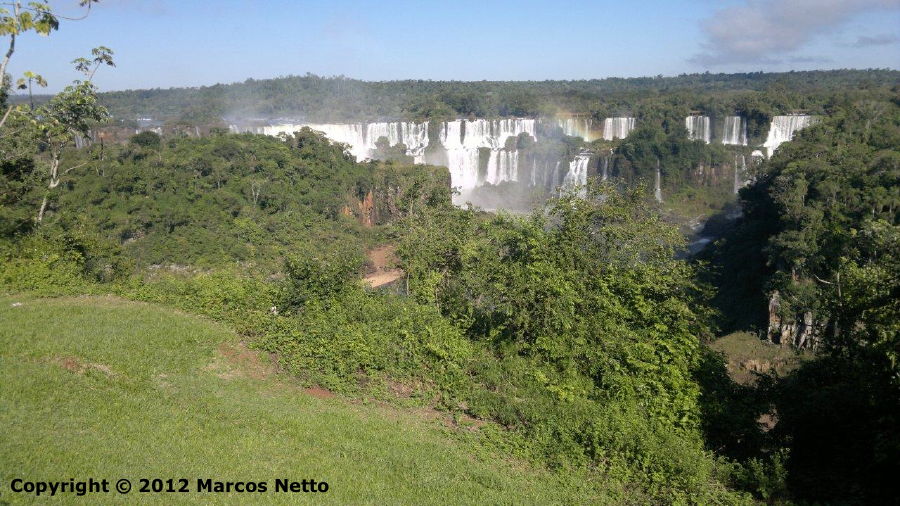 Now let's move closer: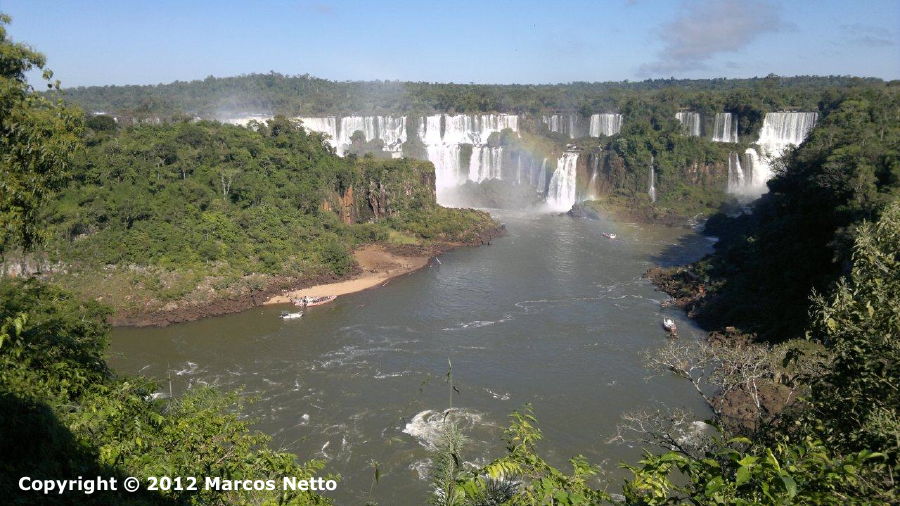 You can get some idea of the scale from the large riverboats along both shores in the photo above. (Right-click on any image to embiggen it.) There's another riverboat on the far right in the following shot, too: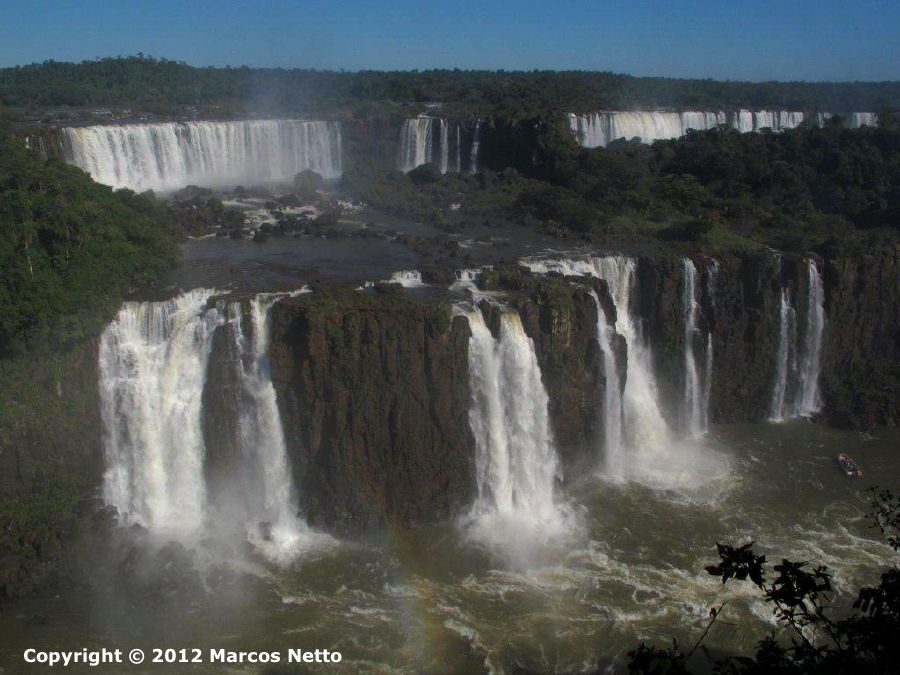 And here's a shot that gives an even better idea of the extent of the waterfall complex:
These aren't bad for photos taken with a cell phone—a Nokia N8 smartphone, to be exact—are they? But when I said something to this effect, Marcos lost no time in reminding me that it's the "little piece of hardware behind the shutter" that makes a shot work. And so it is.
Visitors to the national park don't have to board a riverboat to get a close look at the falls, by the way. Piers let them walk right up to the brink:
It's wet work, though, so you'd better have a good rain jacket. On the other hand, if the light is right you'll see a spectacular rainbow:
And we humans aren't the only visitors:
This is a quati, or ring-tailed coati, a close relative of the North American raccoon.
Of course, even the best still photos can't really do justice to moving water. So Marcos put his Nokia to work again to capture this short video:
What a place! And thanks to Marcos Netto, you (and I) now know exactly how much catching up little Niagara has to do!
Questions? Comments? Just click here!