When I'm on my bike, I want to be seen. This puts me at odds with some of the cycling blogerati, a few of whom go so far as to characterize hi-viz ensembles as "clown outfits." So be it. Better a clown than a corpse, I figure. This safety-first attitude shapes many of my outfitting choices. Call me a worrywart, if you wish. I live with a one-eyed man. I don't have to look far to be reminded just how delicate the Mark I eyeball is. So I wear safety glasses on the road. I also wear brightly colored clothes and a helmet. The one-eyed man has taken quite a few hard knocks on his brain-housing group over the years. Sometimes he was wearing a helmet. Sometimes he wasn't. His concussion-tested conclusion? "No contest. I prefer with." I'm not disposed to argue the point. I, too, have taken a couple of hard knocks. Moreover, I once worked in an extended-care facility that did a steady trade in head-injury patients, many of whom would never leave their beds. The upshot? I prefer to hazard life's hard landings with a helmet on my head. Which is why I don't settle onto the saddle until I've buckled my brain-bucket in place.
Of course, helmet and safety glasses are there to cushion the blow, if and when it comes. Better by far to avoid it in the first place. That's where bright colors come in. But they're just the starting point. They aren't enough by themselves. In my quest for ultimate conspicuity, I also make use of blinkies and reflective materials, even during daylight hours. In short, I do everything in my power to insure that the drivers of cars and trucks see me in time to adjust their speed and lane position so as to pass safely, whatever the road conditions and weather. The more lead time drivers have, the better for us both. And this got me thinking about the importance of mounting blinkies high. All other things being equal, the higher a light is, the sooner it can be seen. My rack-mounted RADBOT is bright, but it's pretty low. Then again, the mounting options on a bike are necessarily limited. In fact, the highest point on most bikes is—you guessed it—the cyclist's head. Which gave me a bright idea…
I thought I'd try mounting a blinkie on my helmet. The Cateye TL-DL600 fit the bill: five LEDs, four modes, and (Cateye claims) up to 30 hours on a single set of AAA cells—light, bright, and long-lived, in other words. So I bought one. It was a good call. The light can be mounted either horizontally or vertically, and the mount itself has a thin, flexible strap that's long enough to thread through the vents of my Giro Hex helmet without protruding so far that it comes into contact with my head:

The photo below shows the mount adjusted for optimum visibility with the Cateye in the vertical orientation. (Right-click on this and the other photos to open enlargements in new windows.) Removing and replacing the light is a snap: just depress a simple catch and slide it off.
Now here it is in the horizontal orientation: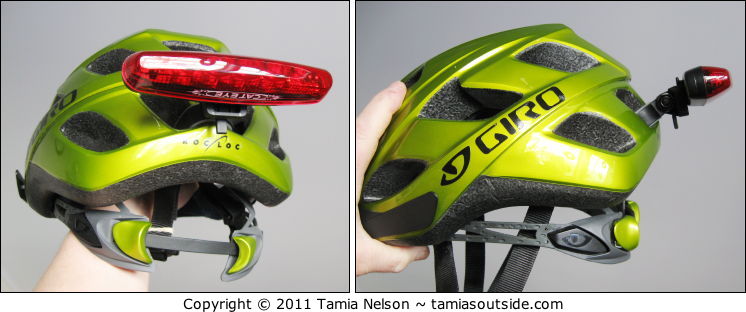 I'm not sure which I prefer. I'll have a better idea once I've completed road trials in a variety of conditions. My brain-bucket blinkie is a bit bulky, to be sure, and it's certainly geeky-looking. So it won't appeal to the fashion conscious. But it will get a bright blinkie up high, where it's most likely to be seen. And that's all I ask. I'll leave the silk suits and stiletto heels to other, braver souls.
TN Outside reader Bill wrote to tell me he also uses a blinkie on his helmet. In fact, he uses a blinking headlight on his brain bucket, too. Here's what he has to say:
I wear a mountain bike helmet and slip a strap-mounted headlamp over it, then lock it in place with the visor. On the back of the strap I attach a blinkie. I love the idea of using it when riding a road bike, too. I do too much riding in the dark, and love my front headlamp. Once I get to the busy part of town I switch the front light to blink. I would rather look like a clown than a squashed non-clown any day of the week. I may get hit one day, but they will never be able to say they didn't see me in the dark. The safer we are the better off we are!
I also heard from Planet Bike's Kristin Wentworth, who passed this on:
Just a comment for your post on helmet tail lights. For what it's worth, Planet Bike makes a taillight [3 LED Tail Light with Helmet Mount] made specifically to mount on a helmet. It has a self-leveling bracket so that the light always angles directly behind the rider.