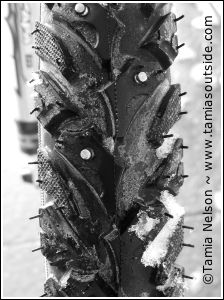 The welcome break in the weather that ushered in the new year is only a memory now. Snow has been falling every day for over a week. We've had no great storms to contend with, but the near constant flurries have kept the secondary roads snow-covered and icy. They get minimal maintenance at the best of times, and the cars passing back and forth over their snow-covered surfaces soon polish them till they bear a fair resemblance to skating rinks. These are the very conditions I've dreaded most whenever I've made the 25-mile round trip into town. And that's why I've finally seen sense and mounted studded snow tires on my winter bike. Thanks to unseasonably warm weather, my first rides on the new rubber were remarkably untesting, but this week the Tundra Wolves had a real chance to show what they could do.
The thermometer stood at a balmy 12 degrees Fahrenheit when I set out. A bitter east wind made the flags flap, and a heavy overcast hid all sign of the sun. My destination was a "seasonally maintained" gravel road, but first I had to get there. This proved something of an adventure in its own right: despite heavy applications of sand and salt, ice was everywhere.
Still, ice was what I'd come for, and as I climbed the first of many steep but short grades, I headed right for the slipperiest spots. I hedged my bets, though. I kept my speed low. (Easy enough to do during a climb!) I needn't have worried. The Tundra Wolves' claws did their stuff. The descent proved a little more interesting, but—to my considerable relief—I found that having studs made feathering the rear brake much more effective than when I'd gone "barefoot." That said, a word of warning is in order: It's never a good idea to brake hard on slippery surfaces, and it's a particularly bad idea to clamp down on the front brake. Feathering the rear is a much, much safer approach. There are no guarantees, however. Studded tires are good, but you're still balanced on two wheels, with a footprint of no more than two or three square inches. 'Nuff said?
Soon I reached to turn-around point for the town plows, and I stopped to scout the road ahead. A handful of 4WD vehicles had already driven through, leaving their usual spoor, a mishmash of icy tracks and crisscross ruts. Satisfied that the resulting road conditions would indeed test the Tundra Wolves, I mounted up and cycled on. At first, I was somewhat apprehensive—who wants to crash, anyway?—but after I'd gone a few hundred yards without mishap, I began to relax. And before long I was enjoying the ride.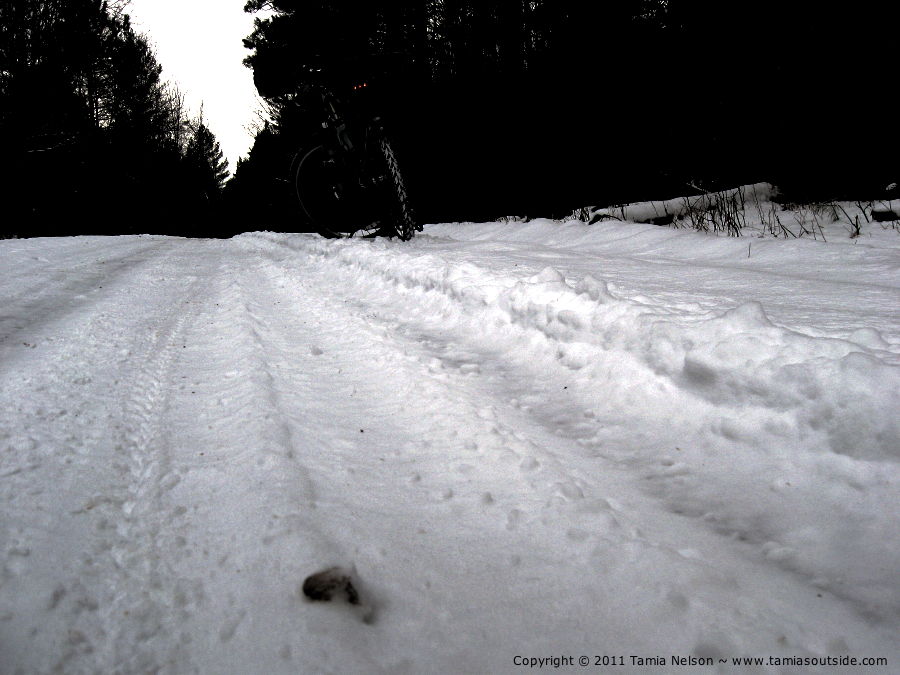 Still, it wasn't summer. An icy wind whistled through dense stands of spruce and pine as I cycled along at something like two-thirds my usual pace. But the Tundra Wolves proved as sure-footed as they had been back on the "maintained" road. The aggressive tread powered through the ruts, while the studs kept me from spinning out on the ice. The upshot? Whether I was freewheeling down a steep hill or cutting trail through several inches of untracked snow, I felt reasonably secure and in control. "In control" isn't quite the same thing as "safe," of course. Riding on icy roads is never as carefree as riding on dry asphalt. But I had more control than I ever had on my old rubber.
Then it was time to call it a day. Now I was climbing, rather than descending. But I never lost traction, even in the steepest places. And before I knew it, I was back where I had started.
The bottom line? My Innova Tundra Wolf tires fare well in a wide range of winter conditions, from black ice to modest depths of unpacked powder. That said, I won't be following snowmobile trails on my bike anytime soon. (Why would I want to? With all the unburned hydrocarbons in the air, it would be like cycling the freeways of LA on a hot summer's day.) But grocery runs into town will be a little less fraught in future, and icy parking lots will hold fewer terrors. That's exactly what I bought them for, after all, and the Tundra Wolves deliver. I couldn't ask for more.