Almost exactly a year ago, I bought my first digital SLR, a Pentax K200D. I've already written up my first impressions of the camera, but now that I've shot tens of thousands of photos with it (over 34,000, last time I checked), I can do a little better than that.
If you're in a hurry, you can get the gist of what follows from the title: The K200D is indeed a good companion for any peripatetic photographer. Not in a hurry? Then here's…
The Nitty Gritty
The sun doesn't always shine, and I can never find a current bush when I need one. So a bombproof weather seal and the ability to use off-the-shelf AA cells loomed large when I went looking for a digital SLR. The K200D fit the bill, and it offers much more besides. Just what are these other pluses? Easy. The K200D…
Is built to last.
Has "sticky," textured hand and thumb grips.
Has a black body. (Black doesn't spook wildlife.)
Uses standard SD and SDHC memory cards.
Permits you to dial in a diopter correction for the optical viewfinder. That's especially handy if you don't want to dig your glasses out of your pack for every shot.
Has controls you can work without taking off your gloves.
Boasts a crisp, predictable shutter release.
Allows you to lock up the mirror. (This reduces vibration and consequent blur in time exposures and macro photography.)
Offers image stabilization to damp the shakes when you're breathing hard.
Permits fast follow-up shots.
Can be programmed to capture images in a wide variety of formats, including minimally processed "raw" image files.
That's a pretty impressive list, right? But I've left the most important item till last: It works in all weathers. My K200D functions flawlessly in sub-zero cold and sultry summer heat, in rain, sleet, snow, and dust. It's also a good traveler, and has gone hundreds of miles in bar bag, rack trunk, rucksack, and ammo can without complaint. It's even survived being smacked against tree trunks and rock outcrops. I don't recommend mistreating any camera, of course, but accidents do happen. It's always comforting to know you've picked a survivor.
Good as it is, however, the K200D has proven to be a fussy eater. It uses AA cells, but they can't be just any old AA cells. I've had best luck with Energizer Ultimate Lithium cells and Sanyo Eneloop NiMH rechargeables. In the backcountry, I rely on lithium cells. Elsewhere, I use rechargeables (and carry lithium cells as a backup). Neither is cheap, but both last for hundreds of shots before they need to be replaced or recharged. They also continue to function in sub-freezing temperatures. Other cells I've tried just don't measure up.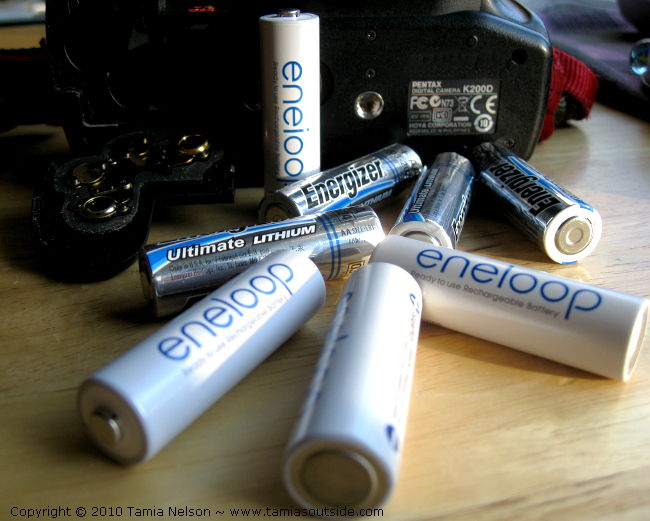 OK. I'm very happy with my K200D. But is it perfect? No. And it falls down in one area that many photographers will consider critical: low light performance. Specifically, shots made at ISOs higher than 400 are "noisy," particularly when the subject is in shadow. Post-processing can improve matters somewhat, but you can't put back what you've lost. Luckily, I do most of my work at ISO 100 or 200, and these produce crisp, clear photos, every time. But you may have other needs.
The Bottom Line
Would I buy this camera again? Yes. But I won't get the chance. At least I won't be able to buy a second new K200D. Pentax has discontinued the model. However, the currently available Pentax K-30 looks like a reasonably priced, rugged, capable replacement. The K-30 combines the K200D's weather-sealed body with the ability to subsist on a diet of AA cells without buying an auxiliary battery grip (which makes for a very bulky, heavier load). If you don't want to spend the better part of USD1000, there will be used K200Ds on the market for some time, and one in good condition would be well worth considering for inclusion in your camera bag. Just don't count on mine showing up on eBay anytime soon!