OK. There are limits. My canoes are made from ABS, not Kevlar. My bikes have steel frames, not carbon. (Er… My winter bike has an aluminum frame. Still, it's no lightweight.) And there's no way I'm leaving my growing collection of camera gear at home. But I'm certainly not adverse to saving the odd ounce whenever and wherever I can. Like dinnerware.
For years I got by with a motley collection of mostly surplus mess gear. My knife, fork, and spoon came by way of the Bundeswehr. Good rostfrei ("stainless") steel. A trifle heavy, to be sure. But sturdy. The same was true of my cups and bowls. I started out with a big, steel GI canteen cup, and I used it for years for both food and drink. Then I moved up to a Sierra Club cup. Also steel. And finally—luxury!—to a steel cup-and-bowl combo. The cup held a cup of liquid; the bowl, a pint of whatever was on the menu. Now I didn't have to finish my stew before I could drink my tea. It was gracious dining at its best. True, I sometimes wished my mess gear wasn't quite so heavy. Halfway across a three-mile portage, say. But I coped.
Then I started exploring the world on two wheels. This forced a radical rethink in the way I packed and provisioned. I didn't need to carry food for every day I'd be away, of course, but I also had a lot less space for gear. And I felt each extra ounce on every hill. My ex-Bundeswehr knife-folk-spoon combo weighed in at half a pound. The steel bowl added another half pound. Ouch! Steel made sense for bike frames, I decided, but it didn't belong in my mess gear. The alternative? I took the advice of a certain Mr. McGuire: plastics. It was a good suggestion.
Here are my old reliables: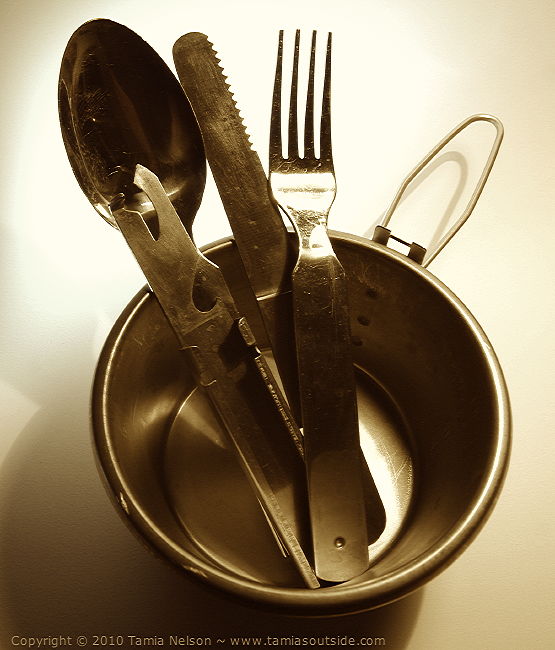 And here are their replacements:
I haven't pensioned off the old guard, by the way. The heavy brigade has a place of honor in my getaway pack. But plastic rules when I'm on the bike. I could have opted for titanium, of course. But titanium isn't cheap. Since I'm still waiting for the bankers' bonuses to trickle down to me—could be a long wait, I suppose—it didn't seem like the best option. And I didn't fancy the clumsy hybrid known as a "spork." So plastic utensils looked like the way to go.
They were. Bowl and utensils together weigh in at three ounces (both bear the GSI Outdoors brand; I got them at Campmor), and they cost less than a single titanium spork. The knife is sharp enough—and sturdy enough—to cut cube steak, the fork twirls pasta with reasonable aplomb, and the spoon is…well…a spoon. Best of all, I saved enough ounces to offset the weight of my steel cup. That means I can keep this old friend with me, not to mention being able to eat and drink at (almost) the same time. Who says going light has to be an exercise in self-denial, anyway? Mackie, old son, eat your heart out!