This weekend I received a pleasant letter from a reader named Perry who's built up a new Surly Long Haul Trucker, informed in part by some of the articles he's found here at Outside. Perry asked me what mirror I'm using on the left side of my LHT's handlebars. I wrote back to him with an answer, but instantly received the dreaded "Delivery Failure" with the ominous declaration that "This is a permanent error." Oh no! How can I answer Perry's question if his email server isn't accepting mail? Put the answer on my website, of course. So this is for you, Perry, wherever you are. Hope you see it!
To Perry's question, then. What mirror am I using on the left side of my bike? Tricky, that. Because he was brief, and didn't elaborate, I assume Perry was asking about this photo: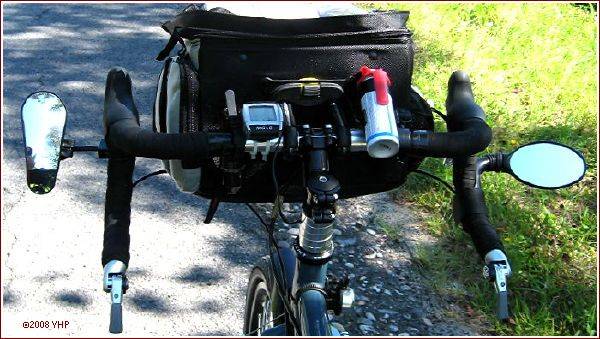 Because there are two mirrors on my bike in this picture, it makes sense someone might wonder which is on the left. The answer? That's what Performance Bike calls the "Ultra Light bike mirror," and Rivendell calls "the German mirror." But in case Perry was referring to this photo…
…I'll identify it, too. That's the Blackburn road mirror. The Blackburn is the mirror I use now on the left. I described why and wrote about both of these mirrors (and others) in an earlier article. Read "Look Back! Something Might Be Gaining on You" if you'd like to know more about these and other rearview mirrors for bikes.
Hope this answers your question, Perry. I hope that your server is accepting mail again soon. And I'd love to hear how you outfitted your bike, so drop me a line—but check to be sure your email address works, first!