My grandfather, a no-nonsense Adirondack guide, practiced the "leave no trace" ethic long before it was a trendy mantra for people with graduate degrees in outdoor recreation. "Leave a place like you'd want to find it," he'd say, again and again. Nothing angered him more than the sports who made a mess in his woods and along his river. And making a mess went beyond leaving wads of charred aluminum foil in fire pits and scattering cigarette butts alongside the trail. It included wanton destruction of every sort, from deer-jacking to indiscriminate tree-cutting. So I can readily imagine what he'd have had to say about the damage done by a chainsaw-wielding maintenance crew along one of The River's trails recently:
This is destruction on a grand scale. Those are mature trees in the photo. The nearest one is moss-covered. It toppled during a windstorm years ago. But the rest were dropped by the maintenance crew. Most are beeches, though there are a few maples among the fallen, too.
Here are some more shots of the crew's handiwork: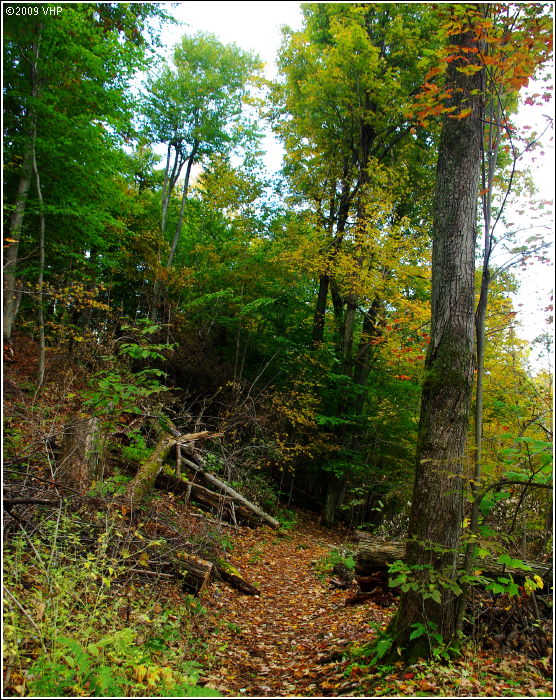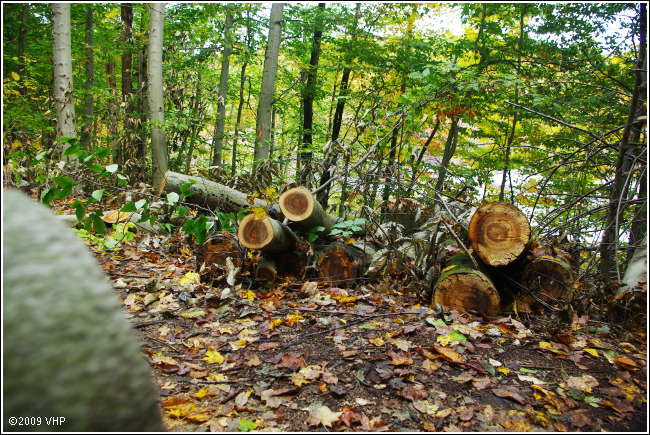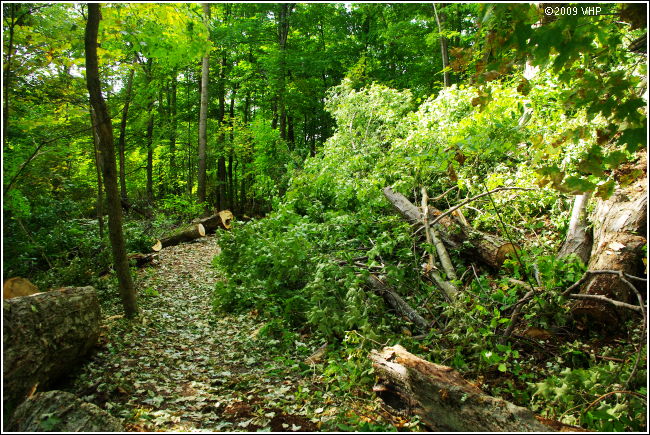 Why were these trees felled? Good question. None presented a hazard to trail users, and all appeared to be healthy. Moreover, ring counts show that the larger beeches were at least 80 years old. Beech are slow to mature, and they don't begin to yield of beechnuts in any quantity until about the age of 40. Since these trees were felled before the mast had a chance to ripen, it will be starvation commons in the local woods this winter. And for many winters to come.
And then there's the destruction of the wildflower garden that flourished beneath the beeches. From earliest spring to late summer, the forest floor blossomed with trilliums, jack-in-the-pulpit, pink lady's slipper, and touch-me-not, not to mention a lush carpet of fern. Now the area will grow up in brambles.
Before the trail-maintenance crew commenced their wanton improvements, this woods was alive. Warblers trilled from the branches, chipmunks rustled in the understory, and red squirrels churred from the canopies. I'd often see a fox or cottontail if I was out and about early enough. No more. The snarl of the chainsaw has now stilled the music of these woods.
---
How many of us take the time to look beyond the beauty strip? How many of us really want to? Aren't many of us, much of time, content to avert our eyes? After all, what you see can often be painful. Still, if you ride a bike on our public roads, hike the trails, walk to do your shopping and pick up your mail, or paddle on public waterways, than maybe you're less likely to look away.
I'd like to encourage everyone to look beyond the beauty strip. That's why I'll be returning to this topic from time to time in future.
Questions? Comments? Just click here!