For several winters running, snow conditions here in the northern Adirondacks were so appalling that snowshoeing and cross-country skiing were either unappealing or impossible. Hiking wasn't much better. Intermittent thaws and freezing rain left the landscape sheathed in ice, and trails were impassible for anyone not wearing crampons and carrying an ice ax. There was an upside, however. The roads were rideable several days each week, so I was able to cycle to town. And on the days when I couldn't, there was always the nowhere bike or the rowing machine.
But this winter has been different. While we've had frequent thaws, there isn't as much ice, and now the snow is starting to fall in earnest. It's time to take out the snowshoes!
Except… After two successive snowless winters, I'd sold my snowshoes. But Campmor had a reasonably priced (USD110) pair of tubular-framed decked 'shoes in its catalog, so I placed my order, and in less than a week I was inspecting my new pair of Redfeather Eagle V-Tail 30 snowshoes. Here they are: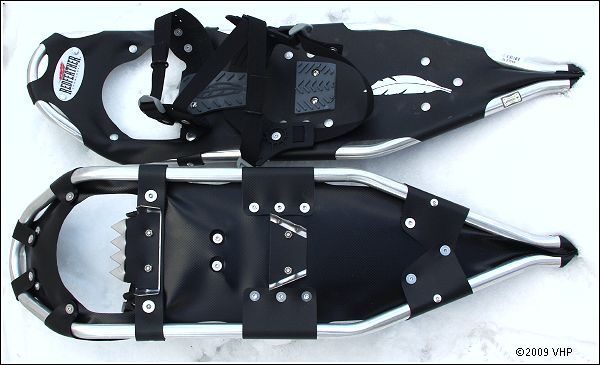 At three and a half pounds, they're pretty light on the feet, and the 30-inch length should carry me over the deepest drifts in style, even when my rucksack is loaded with gear. Yet the Eagles are still short enough to make bushwhacking through thickets and ascending steep sloops a joy, rather than a chore. The binding accommodates my boxy NEOS Explorer overboots, too, …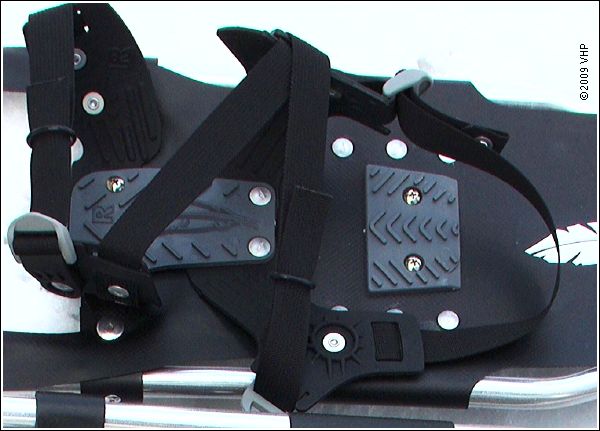 And the fixed crampons (see the first photo) will make the occasional icy traverse much less nerve-racking.
Or so it seemed. The proof, though, would emerge in …
The Trial. I chose a sunny morning after an overnight storm had dumped a foot of new powder on an already substantial base. I can walk from my door to the trailhead in a few minutes, so I just tucked the 'shoes under the flap of my pack and set out, placing the shoes bottom-to-bottom to keep the crampon teeth from tearing the canvas. (Redfeather later sent me a set of vinyl crampon covers. They solve the problem.)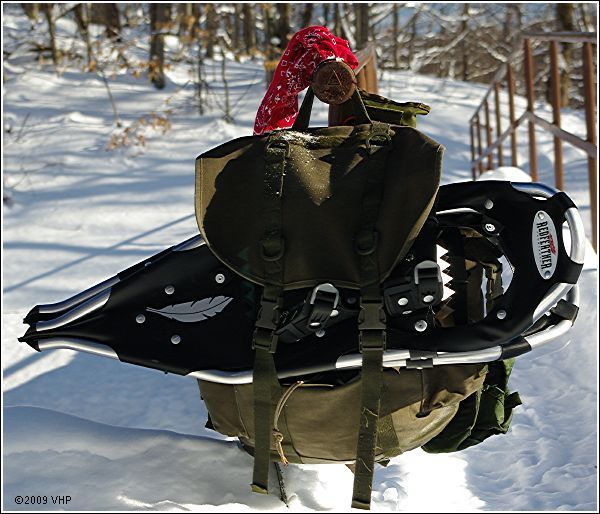 The binding proved simple enough to adjust with gloved hands, easily accommodating the big NEOS boots. I did have to remove my gloves momentarily to thread the tail of the webbing through the securing O-rings, however—a decided drawback in arctic conditions.
Once under way, I found these narrow shoes easy to walk in, and the V-tail minimizes the amount of snow thrown up on the back of my legs. It might also improve the 'shoe's tracking, though the binding is so rigid that no extra help is really needed.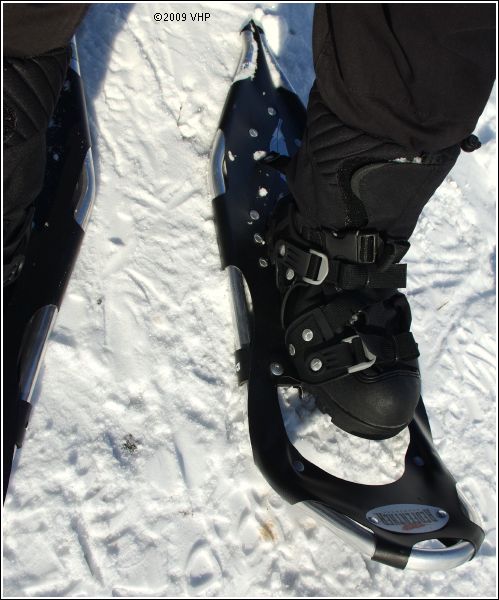 OK. I figured I'd spent enough time pottering around. And I was itching to …
Travel Cross-Country. I didn't bog down when I hit the deep drifts on the hills, either. The rigid bindings, narrow width, and fixed crampons worked together to make climbing and descending steep slopes easy, whether I employed a timid traverse or a more aggressive direct assault on the fall line. I spent the morning happily trekking over ridges and through brushy tangles, even jumping across narrow streams on several occasions. And I found plenty to photograph along the way.
Snowshoes. If you live in snow country, they give you the freedom of the hills when other winter wanderers are confined to groomed trails or denuded slopes. And Redfeather Eagle V-Tails are very creditable examples of the breed. So let it snow, I say! My Eagles and I are ready for whatever winter throws our way.