Much to my surprise, I've learned that helmets are viewed with disfavor by some self-styled "bicycle advocates." As a consequence—at least in some places—helmet-wearing cyclists can expect to find themselves the object of derision. No matter. For me, at any rate, the decision to wear a helmet is a no-brainer. I went flying over the handlebars when a young woman, and I landed hard on my unprotected noggin. I've no wish to repeat the experience, especially after spending three years working with head trauma patients in an extended care facility. The dictates of fashion and the sneers of the anti-helmet advocates be damned. I always wear a helmet when I ride.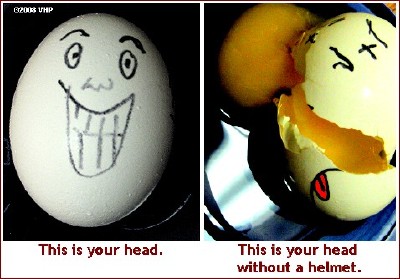 It's not as if this is a great sacrifice. Modern bike helmets are so light that you'll hardly know you're wearing one. And while nobody would call them flattering, their design is a logical consequence of the venerable maxim that form should follow function. The often garish colors help motorists distinguish you from the scenery, while the multiple vents ensure that you keep a cool head, even in the hottest weather. (Don't forget to keep sipping from your water bottle, though.) But what if you crash? Then the thin plastic shell slides easily on asphalt, limiting rotational forces on neck and spine at the same time that the hard foam liner absorbs much of the force of impact.
Good fit is important, of course. A bike shop can be a big help here, though if price is a concern, you might want to see what you can find at Walmart or another big-box retailer. In fact, there's a good reason to begin your search for a helmet at the bottom of the price ladder, especially if you're no longer young. While all helmets bearing the legally required CPSC certification offer comparable levels of protection, cheaper helmets usually have fewer vents and more foam, and that foam is often a little softer than the very hard foam in top-of-the-line models. Since old brains are somewhat brittle (you suspected as much, didn't you?), the slightly softer (but still "hard") foam may offer additional protection in low-speed impacts. Want to learn more about this and other technical matters? Then be sure to visit the website of the not-for-profit Bicycle Helmet Safety Institute. There's no better source of information on bicycle helmets.
Can't find a helmet that fits in Walmart? Then check out the offerings at online retailers like Campmor, Nashbar and Performance Bike. Or visit your local bike shop. But whatever you do, buy—and use—a helmet. Every time you ride. Without fail. You only get one head. It's worth protecting.
Questions? Comments? Just click here!