I armor my eyes whenever I get on my bike. This wasn't always the case. But after too many close calls, I saw the light. It's two eyes to a customer, tops, and I don't want to lose even one.
On the road, there's danger from blowing sand and debris kicked up by passing cars and trucks. Off the road — I'm talking jeep trails and forest roads here, not singletrack — there are overhanging branches and sharp twigs. Then there's the sun itself. Ultraviolet radiation takes its toll over the years, with cataracts (or worse) as the end result. The best defense? A good pair of specs. There's a bonus to wearing glasses, too. They break the wind on sub-freezing days, and that means you'll tear-up less often.
How about a little show and tell, with the help of a couple of willing models. In the photo below, the little guy on the right is wearing Bausch & Lomb amber-tinted shooting glasses, with photochromic lenses. These were the glasses I wore when I first started cycling again, a relic of my skeet-shooting days, and while they're excellent for their intended purpose, they're not very good on the road. They sit high on the face, where they get in the way of my helmet. And they're very heavy, with curved metal temples that dig into my ears when I'm leaning forward and down on the drops.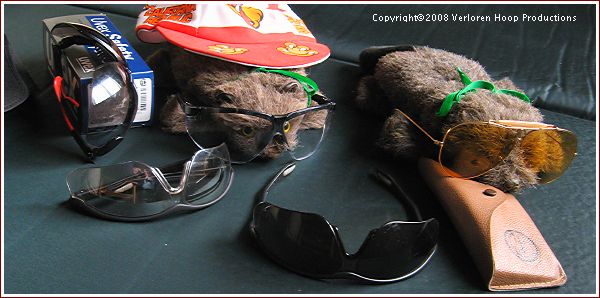 Cool dudes
Just the facts
One season was enough to convince me that I could do better. So I bought two pairs of polycarbonate wrap-around safety glasses made by Bouton Optical. One pair has clear lenses; the other, smoky gray. The lenses can be replaced, but after five years of regular use, the originals are still scratch-free. I keep both pairs in my bar bag at all times. That way I always have the pair I need.
My other model — he's the dude with the cycling cap — is wearing a pair of wraparound Uvex safety glasses with clear lenses. Next to him, propped up on the box, is a second pair with mirrored gray lenses. Like the Boutons, the Uvex glasses have polycarbonate lenses. The gray Uvex lenses aren't quite as dark as the smoky Boutons, but they do the job, cutting glare in all but the brightest environments.
What do I look for when shopping for cycling eyewear? Here's the list:
ANSI Z81.1 impact-resistant lenses
99.9% UV block (available even in clear lenses)
Straight bows
Wrap-around design
Tint according to conditions
A few words by way of explanation: Impact-resistant lenses protect you from flying debris, and if they wrap around your face, so much the better — though this may exacerbate any fogging problem. They'll also help you if you go over the bars. (Provided you've tied your glasses on with some sort of safety strap, that is.) Straight bows easily slide under the straps of a helmet.
Downsides? Only one that I can think of: Curved, wraparound lenses make an awkward package when they're not on your face. A fitted pouch like the one in the photo on the right is the best way to carry them, even if it does take up a disproportionate amount of space in your bar bag.
Of course, cost can be a concern, too. Cycling eyewear has become a fashion accessory, with price tags to match. But if you do your shopping at retailers specializing in industrial protective gear, you can get good stuff dirt cheap. With the exception of my Bausch & Lomb shooting glasses, I don't think I've ever spent more than 12 bucks on cycling eyewear. That's mighty cheap insurance, wouldn't you agree?
Questions? Comments? Just click here!